Why IRIA?
IRIA, International Rescue Instructors Association, was founded in 1984 after assessed and assisted by US government.  At the same year, IRIA was invited by UN to participate in Calamity Open Hearing Report and registered as Authenticated Training Organization, whose purpose is providing member countries with professional rescue training, which is based on the gathered data from members, including objective training requirement and the third-party evaluation. IRIA Risk ManagementOrganizationis featured with internationalized standard, certification and approval.  In according to standard operation sequence of NFPA#1670, NEPF#1006 and other global document or instructors, IRIA collaborates with other experience of different waterborne rescue. Our aim is to provide unbiased, factual and experience-based international standard systems.As a well-structured organization, IRIA has far-reaching influence beyond any individual, regional or national organization.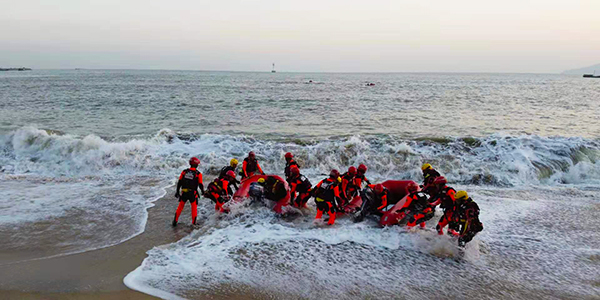 In recent years, whenever heavy rains come, rescue workers are kept constantly on the run, whether it is sand boat trapped or personnel, equipment trapped and other incidents, these have repeatedly challenged rescue workers'capacity of disaster relief. As a rescuer, one will be in danger at any time when he performs his task. Therefore, he should not only have superb rescue skills, but also have multiple rescue solutions and plans. He should also can analyze the situation calmly and quickly when in the rescue scene and adopt correct rescue methods.
Among the disaster environments, flowing water is in the one that could bring greatest change in state and make it more dangerous for task performing. Swift water rescue technology began to develop in the United States in the 1970s, firefighting, special search, military, coastal defense, civilian and other units are involved in research and gradually accumulated theory and technologyfrom actual cases. In foreign countries, we have not only seen the concept of irreversible river characteristics when dealing with swift water, but also learned how to organize relevant life-saving manpower and material resources at disaster sites to make the most efficient rescue operations with the limited resources. 
Swift water rescue means thetechnique touse all kinds of personal skills, teamwork and equipment to perform recuein the torrents resulting from obstaclesin rapid flowing water.Rescuers may operate ropes on bank, use boats and other equipment on the shore or enter the water to rescue the injured using various personal and team skills and equipment. Also, it includes understanding the treatment methods of various dangerous flow conditions such as water dynamics, Strainer, Holes, undercut, low head dam, etc., how to use simple and easy rope throwing technique to save people, how to cross the river with correct angle and rope system, and how to effectively utilize the flow force. Rescue teams often face unexpected situations when facing the rescue scene in the waters, such asurban waterlogging in typhoon, sudden flooding, personnel suddenly washed away, large floating objects and so on, and they all need to make judgments and decisions immediately. Therefore, the rescue team should receive relevant swift waterrescue training in case of emergency relief needs.
Global warming and El Nino phenomenonhave increased drought and flood cycles, exacerbating weather patterns in Europe and the United States. In addition, there are more major earthquakes, wind disasters and man-made disasters in the world. In 1999, about one-sixth of the world's population was exposed in these natural disastersand countriesfound they have to get ready to deal with these problems. There has been more than US $55 billion lost in weather related events. In the United States, natural disasters are the main causes of property losses. For example, American citizens who died of floods were more than those killed in other disasters.
In 1970s, the disaster relief units in the world began to expand from firefighting rescue to more than firefighting functions. Every few years there are new rescue programs, including EMS, then mainly focused on search and rescue training, rope binding to narrow space, ditches, collapsedbuilding trainingand all water, diving rescue training. In fact, there are only a few fires in need of rescue, more medical aid and rescue are neededin natural disaster services. This drives executive officials to look for new tasks to prove the legitimacy of existing organizations. As a result, the need for disaster relief is actually on the rise. For example, in United States, where nearly 2.5 million firefighters, 700,000 EMS paramedics, 1.5 million police officers and hundreds of thousands of civilian rescue teams are now facing new challenges.
Training course system:
1、Swiftwater/Flood Rescue
Swiftwater Rescue Awareness(RESCUE 1);
Swiftwater Rescue Operations(RESCUE 2);
Swiftwater/Flood Rescue Technician(RESCUE 3);
IRB Coast Rescue Training Course(IRB RESCUE);
2、High Angle Rescue
High Angle Rescue Awareness(LEVEL 1);
High Angle Rescue Operations(LEVEL 2);
High Angle Rescue Technician(LEVEL 3);